If you have decided to end your marriage, you may choose to file for divorce. You can file for divorce in Massachusetts if you have lived in the state for one year, or if the reason the marriage ended happened in Massachusetts and you have lived in Massachusetts as a couple.
In Massachusetts, a divorce may be filed as "no-fault" or "fault," and either of these can be contested or uncontested. Before you file, you must choose which type is right for you.
1.Contested or uncontested
"Contested" means that one person disagrees with the divorce or the terms of the divorce. "Uncontested" means that both people agree about everything they file.
2. Fault or no-fault
There are seven "fault" grounds or reasons and also a "no fault" grounds. The "fault" grounds mean that one person was considered at fault in causing the marriage to end. Most people file "no fault" divorce. A "no fault" divorce is a divorce in which the marriage is broken beyond repair but where neither spouse blames the other. In Massachusetts, the no fault divorce grounds is called "Irretrievable Breakdown of Marriage."
---
In a fault divorce, the person asking for the divorce must prove specific ground(s) or reason for the divorce.  The following grounds are listed in Mass. General Laws chapter 208, section 1:  
Adultery

Desertion

Gross and confirmed habits of intoxication

Cruel and abusive treatment

Non-support

Impotency

A prison sentence of 5 or more years  
This process can be more time-consuming and expensive than a no-fault divorce.
 1A or 1B : No fault divorce
There are two kinds of "irretrievable breakdown" divorces. They are often referred to as "1A" and "1B", referring to the section of the law under which they are found, Massachusetts General Laws Chapter 208.
The most common approach is no-fault based on an irretrievable breakdown of the marriage. There are 2 options for a no-fault divorce.
A "1A" divorce would be filed when both spouses agree that the marriage has irretrievably broken down and they have reached a written agreement with respect to child support, parenting time, alimony, child custody, and the division of marital assets. This is an uncontested no-fault divorce.
There are several important papers to file under " 1A" category. Among them are two important documents as below:
(1) Joint petition for divorce under section 1A (CJD-101A) signed by both parties or their attorneys.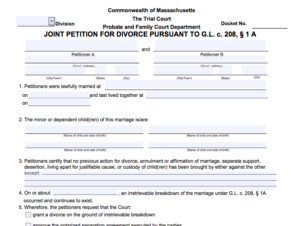 (2) Joint affidavit of irretrievable breakdown signed by the parties.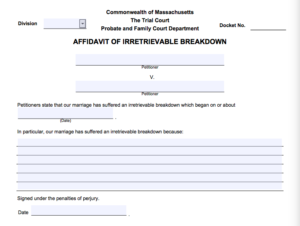 A "1B" divorce would be filed when one spouse believes there is an irretrievable breakdown of the marriage or both spouses believe the marriage has ended but they aren't in agreement with regard to custody, support, or marital property issues. This is a contested no-fault divorce. If you and your spouse are able to come to an agreement, you can file a request to change the divorce complaint from a "1B" to a "1A"divorce.   
Please find the most important papers under " 1B": Complaint for divorce under section 1B (CJD-101B) signed by one party.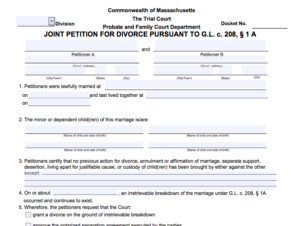 ---
Reference: https://www.mass.gov/
Disclaimer: The Contents of this web site is for informational purposes and should not be considered legal advice. This web page may be considered advertising under Massachusetts Supreme Judicial Court Rules, and it does not establish an attorney-client relationship
We invite you to contact us and welcome your calls, letters and electronic mail. Contacting us does not create an attorney-client relationship. Legal advice and representation can only be obtained upon retaining our firm and the execution of a written agreement for the rendering of specific legal services. Augen Law Offices value your privacy and respect the attorney-client privilege
Augen Law Offices
Address: 21 McGrath Hwy, Suite 205, and Quincy, MA 02169
Email: [email protected]
Tel: 857-526-6042
Wechat ID: augenlawyers